Door Robert-Jan Muller
De jaarlijkse AICA 'Administrative Council Meeting' werd op 21 maart jl. gehouden in Parijs. Dit jaar vergaderden de nationale bestuursvoorzitters onder voorzitterschap van de onlangs voor drie jaar herkozen internationale AICA voorzitter Marek Bartelik (Polen/VS) in het Institut Nationale d'Histoire d'Art.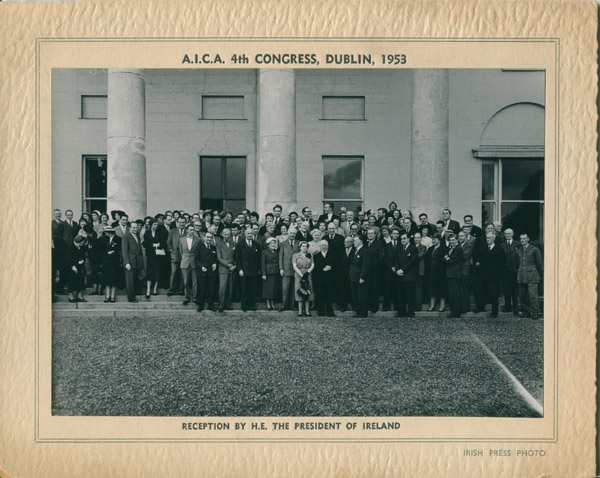 Voor de Nederlandse sectie was vooral van belang, behalve de lopende bestuurszaken en financiele afhandeling, de directe toelating van enkele nieuwe Nederlandse leden, de positie van het Fellowship Fund Comittee (een Nederlands initiatief) en het Committee on Censorship and Free Speech, waarvan de Nederlandse voorzitter Robert-Jan Muller commissielid is.
Fellowship Fund
In Parijs werd de doorstart besproken van het Fellowship Fund, dat door het vertrek van voorzitter Adriana Almada (AICA Paraguay) en de losmaking van de Incentive Prize (een aanmoedingsprijs voor jonge kunstcritici) een wat onzekere toekomst kreeg.
De nieuwe voorzitter Daniele Perrier (CH/D) heeft echter duidelijke plannen met het Fellowship Fund, waarbij een van de kernwaarden betrokkenheid van de nationale AICA secties bij het FF is. Dit is van groot belang om de fondswaarde te verhogen en zoveel mogelijk inkomsten voor het FF te genereren. Vanwege deze doorstart besloot de voorzitter van AICA Nederland, tot voor kort FF commissielid, het Nederlandse bestuurslid Anna van Leeuwen te verzoeken zijn plaats in te nemen. Anna van Leeuwen hoopt op internationaal niveau AICA leden te engageren voor het Fellowship Fund en heeft daartoe nauw contact met voorzitter Perrier, die haar deelname met enthousiasme heeft verwelkomd.
Committee on Censorship and Free Speech
In het Committee on Censorship and Free Speech, onder voorzitterschap van Liam Kelly (AICA Ierland) wordt censuur aanhangig gemaakt op internationaal niveau. Het gaat hier meestal om kunstcritici en kunstenaars die vanuit de lokale overheid worden belet te publiceren of te exposeren op politieke gronden. Na signalering en evaluatie, vaak in samenspraak met de lokale AICA tak, wordt er een brief aan de betreffende overheid geschreven waarin uiting wordt gegeven aan de afkeuring van de censuur.
Niet een futiel gebaar: de betreffende criticus of kunstenaar voelt zich in ieder geval gesteund door de internationale kunstgemeenschap.
Met name noemenswaardig is het (door AICA Nederland aangebrachte) geval van de Cubaanse kunstenares Tania Bruguera, die op de dag van het ondertekenen, eerder dit jaar, van het culturele en politieke akkoord tussen de VS en Cuba op het belangrijkste plein in Havana een 'open microphone' event hield. Zij werd daarop tweemaal gearresteerd en gevangen gezet zonder duidelijke aanklacht.
Opmerkelijk was dat, nadat het Committee on Censorship de Cubaanse AICA voorzitter David Mateo om nadere inlichtingen had gevraagd, deze uiteindelijk aan het committee antwoordde dat verschillende Cubaanse AICA leden het eigenlijk wel eens waren met haar arrestatie.
Naar aanleiding van deze constatering heeft de voorzitter van AICA Nederland er in de Parijse Administrative Council Meeting ervoor gepleit om tijdens het AICA congres 2016 in Havana een apart symposium te organiseren over censuur en vrijheid van meningsuiting.
Ballotagecommissie en IAAC Prize
AICA NL secretaris Niels van Maanen kon in het Parijse AICA kantoor direct goede zaken doen en een aantal Nederlandse lidmaatschapaanvragen bij de ballotagecommissie 'erdoorheen' krijgen. Tijdens de algemene vergadering werd bovendien het voorstel goedgekeurd om de IAAC Prize (een initiatief van AICA UK) voortaan onder de vlag van AICA International uit te reiken. Roos van der Lint, AICA bestuurslid was een van de genomineerden van deze internationale prijs voor kunstkritiek:http://www.iaac-m21.com/english/index.html